Retaining Wall Design Service
Design and Drawings for construction of retaining walls for any application
Site leveling
Swimming pool installation on sloped properties
Stabilizing steep grades on or between properties
The Service:
Site measurement
Preparation of construction drawings for contractor and /or town permit applications
Types of Retaining Walls:
Segmental Retaining Wall -- Wall assembled from concrete blocks designed to lock together. This type of wall offers the best combination of life, asthetic, and structural integrity.

Gravity Wall -- Generally a low height wall this is supported by it own weight without any supports.
Reinforced Wall -- Wall that has geogrid material that connects the wall blocks to the soil behind the wall. This type of wall is use where the grade to be supported is in excess of 24"

Timber -- Heavy wood members treated to resist decay. (Railroad Ties) This is the lowest cost type of wall, but has the shortest lifespan.
Poured Concrete Retaining Wall -- Generally the most expensive type of wall to install, relying on its own weight to support the grade above.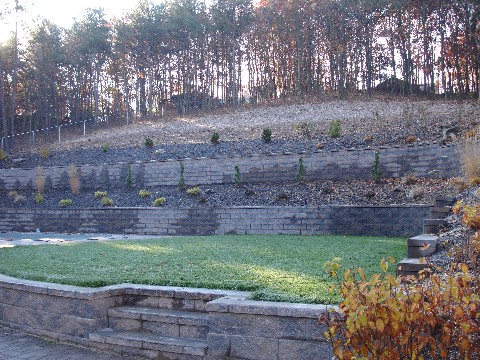 Tiered Segmental Retaining Wall for Pool Installation